Autumn Fair Feedback
Posted on September 29th, 2015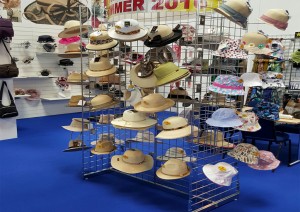 As mentioned in previous newsletters, we at SSP hats ended our trade show season at the Birmingham Nec with one of the most important trade shows of the year, Autumn fair. Feedback from this was excellent and showcased some interesting trends.
Firstly, just like in previous trade shows, our newest tweed bags such as LB34 and LB35 were very popular this time round. But it wasn't just the tweed bags, our current children bags such as LB27 were big sellers this time round and were available at sale prices. Aussie style hats like our newest fedora style AK62 and tweed hats such as EHT2 were also a popular choice, with both being perfect for outdoor working.
Understandably with the weather changing rapidly and the cold soon to bite, many of our customers placed orders for hats and accessories more suitable for winter. Gloves like GM20, ski hats such as A621 and latest additions to our wellies like WF109 were all popular choices.
The most successful range for this season however was our range of faux fur hats. From our new headbands such as AW136 to our wide brims like A322, the mixture of style and practicality was irresistible for some of our customers.
SSP Hats would like to thank everyone who came to visit us during Autumn Fair and the other trade shows this Autumn/Winter season. We always welcome feedback, especially on our newest ranges. Unfortunately this is the last trade show for this year but we will be attending trade shows next year, with announcements soon.
Posted in Trade Shows | Comments Off on Autumn Fair Feedback