Spring trends for hats and accessories
Posted on March 4th, 2016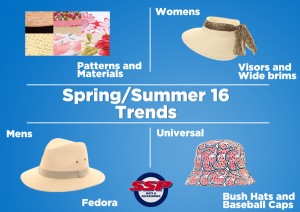 Fashion trends are forever changing and it can be difficult sometimes to keep track of what's considered popular at any given moment. Here at SSP Hats we always like to keep an eye on what's considered to be the most popular and profitable ranges at any one time. Looking at studies and reports from all types of fashion outlets, this Spring/Summer season has brought up some interesting predictions.
With their casual look and nostalgic feel, it's considered that both the bush hat and baseball caps will be very popular for this coming season. Thankfully we have a wide range of both current and new bush hats along with an array of great baseball caps. All of these hats are made from strong materials with a diverse set of designs from patterned to plain. Children are also catered for with character style bush hats that will appeal to their playful nature.
For men in particular, the Fedora is considered to be the top trend that will be a definitive bestseller. Again we have an entire range of fedoras made from all materials and suitable for all the occasions the spring/summer season may bring.
Women's trends this season are considered to be both visors, which are perfect beach and holiday wear particularly in the summer season and wide brimmed hats that often bring a sense of elegance to any outfit.
Finally straw material hats and floral motifs are predicted to be very popular for this time of year and we have plenty to choose from.
Posted in Uncategorized | Comments Off on Spring trends for hats and accessories