New arrivals
Posted on March 4th, 2016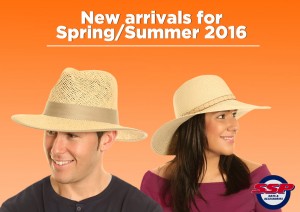 From December we released our latest Spring/Summer 2016 catalogue which featured our current stock with some brand new additions. While these new additions have been added to the website for previewing they weren't available for purchasing. Thankfully from today all of our new arrivals are ready to order with full stock levels.
One of the most popular ranges last spring/summer season was our sensational straw and sun hats. Due to their popularity we've decided to extend these substantially for both men's and women's collections. Fedoras like S220 and A1002 along with trilbies like S240, will appeal to those men wishing to create a casual look and feel. Elsewhere arrivals such as the wide brim SL31 and S225 are superb for female customers. Not to mention our great reversible sun hats such as A1008 and straw hats like SL33. Many of these new straw and sun hats have exquisite features. From patterns to bands, there's truly something here for every taste.
Our brand new tweeds are also now in stock with a wide range of styles available. New trilbies and fedoras like A1024 and A1020 are available in earthy colours and constructed from strong materials, making them ideal for the great outdoors. Best sellers like Flat caps are having new additions such as H102 and A1022. Creating the most interest so far though is the tweed porkpie H103.
As previewed in our previous newsletter our new Occasion hats and Fascinators are now available for purchasing. Finally we are offering new Lightweight scarves that will complement that perfect spring outfit.
As ever minimum ordering is £100 and we are offering free deliveries for any orders over £300. We've had many enquiries about our new stock already and the most popular items can sell out quickly so this is a great opportunity to get your orders in quickly.
Posted in Uncategorized | Comments Off on New arrivals