Halloween and Bonfire Night
Posted on September 29th, 2015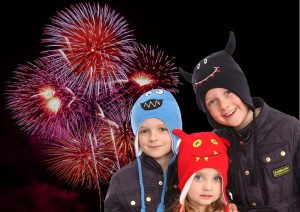 With Halloween and Bonfire night fast approaching, the next couple of months are the perfect opportunity for people to either wear some cool novelty hats or keep warm and snug while watching those wonderful fireworks go off.
Firstly for Halloween, we have a great variety of children's novelty hats and earmuffs that would accompany any Halloween outfit perfectly. This includes our monster novelty hats such as our furry C228, C208 or soft fleece C416, which are all quirky and fun. Elsewhere we have animal gilets like the sublime BW7 and BW9. These also have the advantage of keeping a child warm while still standing out. Finally our animal earmuffs such as C223 would be a great choice accessory, keeping those little ears snug.
For those who may be attending bonfire night, we have a whole host of styles of hats and accessories that will keep those hands and ears warm. Hats suitable for Bonfire night include our Ski, trapper and peruvian hats. Gloves can also be found in the winter collection, along with Umbrellas, just in case the whole thing gets rained off. Many of these also provide both style and durability, making them an essential purchase that customers will love.
Posted in Uncategorized | Comments Off on Halloween and Bonfire Night