Thinsulate range
Posted on September 29th, 2015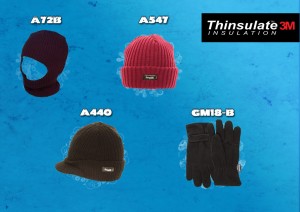 With us now being into the autumn season, the weather is about to change for the worse. This of course has one great advantage, customers looking for great bargains on hats and accessories that can withstand the declining temperatures. This month we are delighted to showcase our current extensive Thinsulate range.
Thinsulate as a brand has had a defining reputation for years, with many associating it with excellent quality materials, keeping hands and heads warm and snug from bitter winds, rain and snow. For starters we have hats such as A547 and A220 that are a simple, practical solution for the outdoors. Most are made from 100% insulating acrylic, with a wide variety of colours and styles available.
Customers wishing to keep their hands warm during the season will love our gloves such as GL25/B and GL28. These are thick and strong, being able to withstand any harsh conditions which may occur during this period. Finally we have balaclavas like A116/B and A116/O than can cover and protect the whole face.
Our Thinsulate range is available now, with quick delivery and fantastic pricing available from £1.10. Great value for money and appealing to a wide range of people, there's no excuse not to get a Thinsulate hat or glove today.
Posted in Uncategorized | Comments Off on Thinsulate range